www.MissingPiecesPlan.com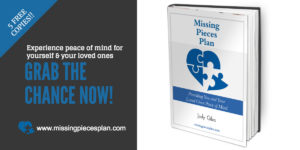 5 FREE books added to the family legacy video Giveaway!
Now, when you enter to win the MPP Legacy Family Video Giveaway (valued at over $2,500), you will be entered to win a FREE book!
FIVE winners will receive a copy of Missing Pieces Plan!
—
Enter NOW to win: 
Production of a unique and memorable story-telling video capturing the essence  of  your loved one will include:
Personalized Journal for note-taking
3 on site interview/video-production sessions
Professionally edited final project of a 5-7 minute video
Specially designed graphics and music selections
Family photos and videos to support the overall theme
One final review session with producers prior to completion
Thumb drive, plus a downloadable link of finished project
Memories to last a lifetime
Enter to win this incredible GIVEAWAY for a family legacy video worth over $2,500!!
How much will you remember about your loved ones? ….  How much will they remember about you?  
So many of us say we'd would love to have something recorded before it's too late…their stories, their wisdom, their hopes and dreams….  but we just never do.    
—
Let us do that for you…..  for FREE!  
Just submit your "name" and "email address" below.
Share your link for more chances to win! ….After clicking "Submit," copy your personal URL link to share and earn additional entries!!
Thanks for entering!
Love Lines family legacy video (worth over $2,500!)
close
Contest Rules & Disclaimer
Enter your email for a chance to win and get periodic updates from "Missing Pieces Plan." We don't spam, sell or share your email address. Then, share with your friends and family to earn even more chances to win.
No purchase is necessary.
Void where prohibited.
This offering is made by Missing Pieces Plan a DBA of Gilesco LLC, a Florida Limited Liability Company, Jacksonville, Florida.
SaveSave
SaveSave
SaveSave
SaveSave
SaveSave
SaveSave
SaveSave
SaveSave