Is there such a thing as planning too soon?
I don't think so…
A good friend often makes fun of me for planning my daughter's birthday parties months in advance. I LOVE any opportunity to plan. Especially fun occasions like parties or trips.
I hold the belief that nothing can be planned too soon – even how we choose to leave our loved ones.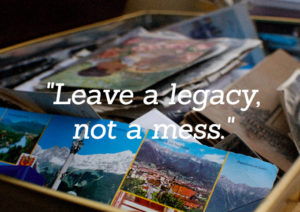 "Leave a mess or a legacy."
We get to choose what and how we leave our loved ones.
For many (or most) it may seem too hard to do what I'm suggesting, but that's the beauty in the work. A more fulfilled life – a more LIVED life.
It is my hope that with the work we will do together in the Missing Pieces Plan book and accompanying worksheets, you will gain a better understanding of how you want to live NOW all while leaving your loved ones more prepared.
No one can prepare for what is to come completely. However, by doing a little planning today you can ease the burden your loved ones will one day face in your absence. The planning done today is a gift beyond measure. It is a priceless gift.
I hope you'll join me as we launch this book and this movement to help us all prepare for what is to come and give a priceless gift – to ourselves and our loved ones.
JOIN ME!
We are launching the Missing Pieces Plan on Kickstarter NEXT WEDNESDAY!
Please help me bring the MPP movement to the masses by pledging to our campaign!! As friends and family, you'll receive first 'dibs' on pledge categories and access to an Early Bird Special!