Why do we avoid talking about death?
Our Botox driven society does everything to prevent aging let alone accept the reality of death. Which is why, when death becomes a reality, most of us are inadequately prepared to deal with it.
Why? Why is it so hard to talk about – let alone plan for – how we might want to 'go'?
Today's medicine as well as our longer lifespans makes options 'at the end' that much more complex. However, despite the complexity, the discussion (and written wishes) of how you want to die is a gift. A priceless gift to those you leave behind.
Too many families are left in anguish or regret, wishing they had known how their loved one wanted to die in the end or how they wanted to be remembered. We can remove the unknown – did I do enough? Is that what she/he would have wanted? How could we have had more quality time in the end? How could we have lessened their suffering?
I am here to suggest that beginning the conversations NOW regarding your death will ultimately lead to a greater sense of how you want to LIVE – in the here and now, with your loved ones.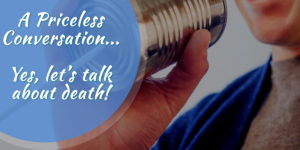 Yes, I am asking all of us to do a hard task. But aren't there countless sayings about the splendor that exists on the other side of hard work? The opportunities are endless – what you will learn about yourself, your loved ones, your true desires, and how you want to create or build upon your legacy.
So, not only can you build the life you want, but you can do the same for your legacy and dare I say it, your death.
Join me as we start the conversation with loved ones and let them know our wishes. Peace of mind is a priceless gift to leave your loved ones.
Wishing you peace and love this holiday season,
Jody