In Chapter 5 of the Missing Pieces Plan, I talk about the importance of creating your advance care plan.
Advanced Care Planning allows you to begin the conversations now about your wishes in regards to medical treatment in the future. There are documents to complete, yes. But in order to be able to put pen to paper, this planning involves some deep thoughts in regards to what you would want in the event of a sudden illness or injury, or a chronic or life-limiting illness.
In the Missing Pieces Plan, I want to help guide you in formulating your wishes by asking questions like:
What if I am no longer able to communicate?
Is there an occasion or life event I would like to make sure I live long enough to see?
Would life still be worth living if I were unable to do any or all of the following basic daily activities; feeding, dressing, bathing, walking, etc.?
Are there any circumstances where I would want to put on a ventilator? Or, do I never want that?
Allowing yourself time to really contemplate what you want – (and acknowledge that these wants will change as we age and as circumstances change) – is a gift to yourself and your loved ones. By putting this missing piece in place, you are also taking an enormous amount of stress off your loved ones, since you are providing guidance for often-difficult decisions about your care.
Today, after seeing this video on Facebook, the above questions seem to have even more relevance. I am again reminded of the importance of gaining a true understanding of what you want and sharing it with your loved ones.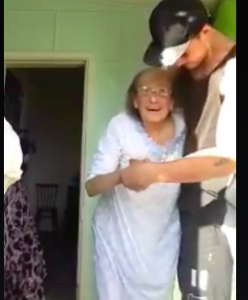 This video of a grandson dancing with his fragile grandmother is priceless. When you see the smile across her face you can't help but be moved. Knowing she is living here on earth – even in her frail condition.
So, I ask, would this be a wish of yours? Whether you can speak or not, walk or not, would you still want to be in your grandson's embrace?
No wish is too small or too irrelevant. They all have meaning and are all important.
Make them, write them, and share them.
Live into what you want, your dreams, your wishes. We all can – if we spend the time making them.
Give yourself the gift of that time now. It will be a priceless gift for you and your loved ones 'later.'
Sending love, Jody
The Missing Pieces Plan is launching January 4th on Kickstarter. Sign up here for updates on the launch! www.missingpiecesplan.com