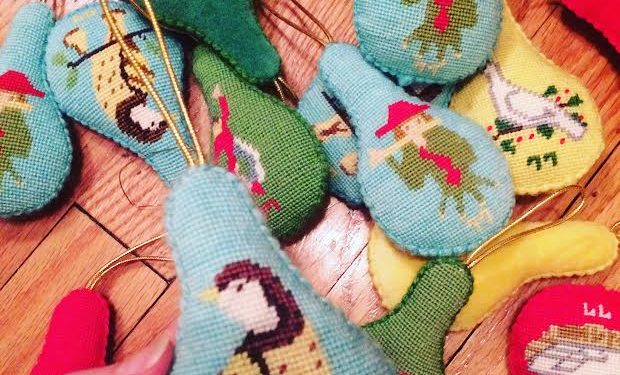 As the holidays are approaching, I want to help you with 5 easy ways to pass down family traditions.
1. Holiday Decor
As you're unwrapping and unboxing your holiday decor in preparation for decorating, are there any that hold special value to you? Are there stories you can share about an ornament, stocking or special holiday dish? Were any passed down to you? If so, from whom? And who would you like to get them when you're gone?
Identify just 1 or 2 items you want to write about and jot down their significance to you. It doesn't have to be elaborate – just some of your notes and memories that you can wrap up with the items in the New Year.
2. Recipes
Food! This is a fun one! The holidays are a time for indulging on special treats that may only appear this special time of year. Do you have a favorite holiday treat? A favorite recipe? Are there recipes you make every year? Are there traditional foods you always had growing up? Are there recipes you want to make sure get passed down? Do you you have a memory of making a recipe as a child? What about a recipe mishap? (Like when I made the green bean casserole with frozen green beans that were suppose to thaw first.;-)
Make copies of recipes you cherish, write a story about one or two, share a favorite memory with a loved one.
3. Holiday memories
What are your favorite holiday memories? From childhood? From adulthood? Who did you spend your favorite holidays with? Where were you? Was it cold? Snowing? Are there any holiday memories you're eager to make? Who with? Where?
Make a holiday memory book – past, present and future!
4. Traditions – past, present & future
In addition to food traditions, what traditions does your family have? What are you doing that your parents did? Your grandparents did? Were there religious services you attended? What are traditions you want to start?
It's never to early to start new traditions. Writing them down is the first step to making them happen!
I love knowing the story of my grandfather's parents collecting a goose for their holiday meal. I love the memory of my mom and uncles fighting over the holiday mashed potatoes. I love having the stockings and ornaments my grandmother needlepointed. Although I am not much of a cook, I enjoy trying my grandmother's recipes at the holidays and now our daughters are enjoying making them, too.
Sharing heirlooms, recipes, memories, and traditions is a gift. And, a gift that keeps on giving. Best of all, it's free. Just takes a little thought and time.
Give this priceless (free) gift this season!
Sending love to you and yours,
Jody
P.S. I'd love to hear from you! Share your thoughts, ideas, memories with ME! Remember..your story matters. It's your legacy.
Email me at jody@missingpiecesplan.com